YB-12/0.4 Outdoor Preinstalled Type Substation (Ou)
Product Detail
Product Tags
Conditions of use
Altitude does not exceed 1000 m;

Ambient temperature: – 25 ℃ ~ + 40 ℃;
Relative humidity: day average no greater than 95%, the monthly average no greater than 90%;
Mounting ambicnt: no fire and explosion danger, conductive dust, chemical corrosive gas and the site of violent vibration, if beyond the above conditions, the user can negotiate with our company.
Function and characteristics of the
Integrated HV switchgear, transformer and LV switchgear, endowing strong integrity;
Perfect HV and LV protection, safe and reliable operation, simple maintenance;
Less land occupation, less investment, short production cycle and convenient movement; flexible and diverse wiring schemes; unique structure;
Firm and unique honeycomb structure double-layer (composite board) shell:
Heat-insulated, heat-dissipating and ventilated, beautiful, with high protection grade. The shell material can be stainless steel iron alloy, aluminum alloy, cold rolled plate and color steel plate.
There are many types: general, villa, compact and so on.
FTU can be equipped in the high pressure ring network cabinet to realize reliable detection of short circuit and single-phase ground fault;it has the function of "four remote" to facilitate automatic upgrade of distribution network.
Types of meaning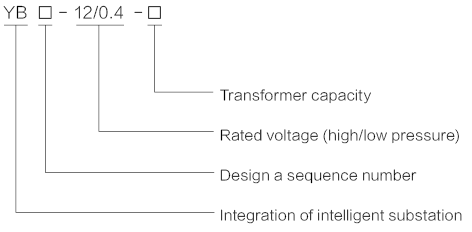 Load switch technology parameters
The name of the

unit

FN12-12 Load switch

FZM12-12 The vacuum load switch

The rated voltage

kV

10

The highest working voltage

kV

12

Rated frequency

 

50

Rated current

 

630

The breaking load rated current

A

630

The thermal stability of current (RMS)

kA/S

20/2

20/4

Dynamic stability of current

kA

50

50

Short circuit close current (peak value)

kA

50

50

At full open circuit

time

20

10000

Mechanical life

time

2000

10000

1 min power frequency withstand voltage (alternate with and over the ground)

kV

42

42

Lightning impulse voltage (relative on the ground)

kV

75

75
High voltage fuse technology parameters
The serial number

Rated voltage (KV)

The Breaking current(A)

Breaking current (KA)

The melt rated current (A)

The British model

Domestic models

SDW*J

 

12

40

31.5

6.3,10,16,20,25,31.5,40

SFL*J

XRNT-12

12

100

31.5

50,63,71,80,100

SKW*J

 

12

125

31.5

125
* note: be determined by whether to install the impactor, N for no firing pin, A firing pin.
Zhejiang Pengbian Electric Co., Ltd. is located in China's electrical capital, is a collection of high-tech at home and abroad in one, the development and production of power transmission equipment key enterprises.
The company has advanced production equipment and exquisite manufacturing technology, specializing in the production of dry type transformer, oil-immersed transformer, special transformer, all kinds of reactor, wind power, photovoltaic transformer substation, substation transformer core, European-style box-type substation, American box transformer substation, high and low voltage complete sets of electrical equipment, power transmission and transformation equipment such as high and low voltage switchgear. Products should be widely in electric power, railway, industrial and mining enterprises, shipping, etc.
Welcome to our company to buy products!
---
Previous:
Flat Open Wound Bent Core
---
Write your message here and send it to us