Single Phase Column Type On Oil-Immersed Power Transformer
Product Detail
Product Tags
Single-phase transformers are widely used as distribution transformers in western developed countries, southeast Asia, north and south America. In the distribution network with decentralized power supply, single-phase transformer has significant advantages as a distribution transformer. It can reduce the length of low-voltage distribution lines, reduce line losses and improve power supply quality. It adopts a high-efficiency energy-saving wound iron core structure design. The transformer is characterized by adopting pole mounting type suspension installation method, small volume, small infrastructure construction investment, reduction of low-voltage power supply radius and can reduce low-voltage line losses by more than 60%. The transformer adopts a fully sealed structure with strong overload capacity, high reliability in continuous operation, simple maintenance and long service life.
It is suitable for rural power grids, remote areas, scattered villages, agricultural production, lighting and power consumption. It can also be used for pole mounting type distribution lines for energy saving reconstruction in railway and urban power grids.
It can run with single-phase or by composing three sets into three-phase.
Types of meaning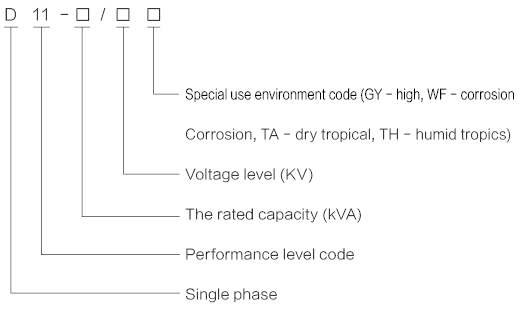 Product standards
GB1094.1 ~ 2-2013 GB/T 6451-2015
High pressure rating: 10 (10.5, 11, 6, 6.3, 6.6) kV
Low pressure rating: 0.22 kV (0.23, 0.24)
Tapping range: non-field excitation changer (5% plus or minus 5%, plus or minus 2 x2.)
Link category: Iio or Ii6
Insulation level: LI75AC35 / AC5
The performance parameters
Rated capacity(kVA)

Voltage Combinationand Tap range

Vector Group Symbol

No-load loss (W)

Load loss

No-load

current

(%)

Short circuit impedance (%)

4.0

High pressure

High pressure tap range (%)

Low ressure (kV)

5

6

6.3

10

10.5

11

 

±2×2.5

±5

 

0.22

0.23

0.24

 

iio

Ii6

 

40

215

3.2

3.5

10

45

235

2.8

15

53

315

2.8

20

62

405

2.8

25

70

480

2.8

30

80

560

2.8

50

120

855

2.3

63

135

1020

2.1

80

160

1260

2.0

100

190

1485

1.9

125

220

1755

1.8

160

260

2050

1.6
Single Phase Column Type On Oil-Immersed Power Transformer
Zhejiang Pengbian Electric Co., Ltd. is located in China's electrical capital, is a collection of high-tech at home and abroad in one, the development and production of power transmission equipment key enterprises.
The company has advanced production equipment and exquisite manufacturing technology, specializing in the production of dry type transformer, oil-immersed transformer, special transformer, all kinds of reactor, wind power, photovoltaic transformer substation, substation transformer core, European-style box-type substation, American box transformer substation, high and low voltage complete sets of electrical equipment, power transmission and transformation equipment such as high and low voltage switchgear. Products should be widely in electric power, railway, industrial and mining enterprises, shipping, etc.
Welcome to our company to purchase products!
---
Previous:
SC(ZB) Series Dry Type Transformer
---
Write your message here and send it to us