ZGS-12/0.4 Pre-Installed Type Box-Type Substation (American)
Product Detail
Product Tags
ZGS series pre-installed box-type substation (American type) is suitable for 10kV ring network power supply, dual power supply or terminal power supply system, as substation, metering, compensation control and protection devices.
This product meets the following standards:
GB/T17467-1998 "high pressure low pressure preinstalled type transformer substation"
DL/T537-93 order 6 to 35 kv box substation technical conditions"
Conditions of use
ASL not exceeding 1000m;
Ambient temperature: – 35 ℃ ~ + 40 ℃;
Relative humidity: day average no greater than 95%, the monthly average no greater than 90%;
Mounting ambicnt: no fire and explosion danger, chemical corrosive gas and well ventilated place, the ground tilt Angle is not more than 3 °.
Function and characteristics of the
Fully insulated, fully sealed, free or less of maintenance and reliable to ensure personal safety;
Compact structure, with the volume being only 1/3-1/5 of European transformer with the same capacity, and low height;
Adopting box-type structure to avoid oil pollution in the transformer oil tank; adopting double fuses on the HV side for full range protection, thus greatly reducing the cost;
Able to be used as ring net or terminal and the cable head can be plugged and unplugged in case of 200A load current;
Adopting honeycomb double sandwich composite board for the box, thus endowing functions of temperature isolation and heat dissipation;
Equipping electronic phase-loss protector on the LV side to quickly disconnect the main switch when abnormal voltage occurs in the system;
Equipping oil-immersed load switch or SF6 load switch which can be electrically upgraded on the HV side, thus to lay a foundation for the automation of distribution network;
Adopting oil-immersed S9 or S11 series transformer with better performance.
Types of meaning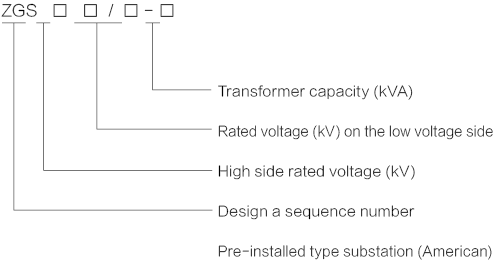 Pre-installed type substation technology parameters
| | | |
| --- | --- | --- |
| The name of the | unit | Technical parameters |
| The rated voltage | kV | (high/low pressure) |
| The highest working voltage | kV | 12(htgh side) |
| Rated frequency | Hz | 50 |
| Nominal capacity | kVA | 50-1600 |
| 1 minute power frequency withstand voltage | kV | 35 |
| Lightning impulse voltage | kV | 75 |
| Cooling way |   | Oil-immersed self-cooling |
| High pressure backup fuse breaking current | kA | 50 |
| Insert fuse open circuit current | kA | 2.5 |
| The environment temperature | ℃ | -35〜+40 |
| The temperature rise of the coil to allow | ℃ | 65 |
| No load voltage regulation |   | ±5%(or) ±2×2.5% |
| The noise level | db | 50 |
| Protection grade |   | IP43 |
 Zhejiang Pengbian Electric Co., Ltd. is located in China's electrical capital, is a collection of high-tech at home and abroad in one, the development and production of power transmission equipment key enterprises.
The company has advanced production equipment and exquisite manufacturing technology, specializing in the production of dry type transformer, oil-immersed transformer, special transformer, all kinds of reactor, wind power, photovoltaic transformer substation, substation transformer core, European-style box-type substation, American box transformer substation, high and low voltage complete sets of electrical equipment, power transmission and transformation equipment such as high and low voltage switchgear. Products should be widely in electric power, railway, industrial and mining enterprises, shipping, etc.
Welcome to our company to buy products!